Here's the West Central Tribune's 2022 All-Area Boys Basketball Team
Nine seniors, five juniors and sophomore make up this squad, which includes two BBE Jaguars and two CMCS Bluejays, as well as players from KMS, New London-Spicer, BOLD, ACGC, MACCRAY, Dawson-Boyd, Paynesville, Willmar, Renville County West, LQPV and Montevideo.
Few things beat experience in sports. In high school sports, the maturity and physical growth of the upperclassmen is a desired trait for coaches.
Experience, it is said, wins championships.
That's the case for the 2021-22 West Central Tribune All-Area Boys Basketball Team. The 15-player squad oozes experience. It is chock full of seniors and juniors.
This year's team has nine seniors, five juniors and one sophomore.
Belgrade-Brooten-Elrosa and Central Minnesota Christian each had two players named to the squad selected by the West Central Tribune's sports staff. Ashton Dingmann and Kaden Pieper represent the BBE Jaguars, who just wrapped up their most successful season in eight years, going 28-5 and taking second in the state Class A tournament.
Case Mulder and Ben Van Eps represent CMCS, which made it to a section final, won the Camden Conference North Division and the overall Camden title while appearing in the state Class A poll for most of the season.
Dingmann and Mulder are repeat selections to the Tribune's all-area team, both earning second-team honors last season.
Other seniors on the squad include: Alex Call of Kerkhoven-Murdock-Sunburg; Alex Kokenge of Atwater-Cosmos-Grove City; Chase Bayer of Paynesville; Tyler Froland of Renville County West; Landon Schirm of Lac qui Parle Valley; and Landon Stock of Montevideo.
There are five juniors on the squad, including Pieper, Brycen Christensen of New London-Spicer, Ryan King of BOLD, Keegon Wicht of Dawson-Boyd and Blake Schoolmeester of Willmar. Christensen is a repeat selection, making last season's all-area team.
The lone sophomore is Lucas Post of MACCRAY.Here's a closer look at the squad:
Alex Call
6-3,, Sr., G/F, KMS
Call is a three-time All-Camden Conference selection and the team's most valuable player who has joined the Fighting Saints' 1,000-point club, finishing with 1,175 career points.
He also participates in baseball, football and choir and is a National Honor Society member who is headed to Bethel University to play baseball and football.
He averaged 15.1 points, 5.2 rebounds and 3.4 assists per game for KMS, with a 1.33 assist-to-turnover ratio.
"Alex is the most all-around athlete that I have coached," KMS head coach Matt Fragodt said. "He has been playing at the varsity level since late in his eighth-grade year. …
"When he is out on the court, other teams have to game-plan against him. Alex can hurt you from inside and outside. Along with scoring, Alex is a very good passer. He has been a great leader and will be missed immensely. He made everyone better on the court."
Brycen Christensen
6-4, Jr., G/F/C, New London-Spicer
Christensen earned All-Wright County Conference honors in a year when conference champion Annandale won the state Class AA title and Glencoe-Silver Lake also qualified for the state AA tournament.
The two-time all-conference selection averaged 14.0 ppg, 7.0 rpg, 4.0 apg, 2.0 blocks per game and 2.0 steals per game. He shot 53.6% from the field, averaging 13 ppg, 7 rpg and 4 apg in his career.
He's also a fine football player.
"Brycen is a unique player," NLS head coach Skip Wright said. "He's a great team leader and teammate. He led our team in scoring, rebounds, assists, steals and blocks. I believe he is the most versatile player in west central Minnesota. (He's) able to play four or five positions extremely well. He impacts the game in many ways and is the guy you want with the ball in his hands when the game is on the line. Beyond being an outstanding player he is also an outstanding young man who is a pleasure to know and coach."
Ashton Dingmann
6-4, Sr., F, BBE
The leader of Belgrade-Brooten-Elrosa's second-place finish in the state Class A tournament, Dingmann is an excellent long-range shooter who knocked down 214 3-pointers in his career, a school record.
He earned All-Class A State Tournament honors and finished with 1,257 career points, which ranks eighth all-time at BBE.
Dingmann averaged 17.1 ppg, 7.2 rpg, 2.4 apg and 1.3 spg, shooting 46.4% (134 of 289) from the field. He shot 43.7% from 3-point range (76 of 174).
"Ashton had an amazing season for us," BBE head coach Chris Anderson said. "He has persevered through his second ACL surgery and did not let that hinder him. Ashton has been a true role model for younger players on the court, in the weight room and through all the obstacles he has had to face. He has a high basketball IQ and has been a joy to coach throughout his career."
Case Mulder
6-0, Sr., G, CMCS
Central Minnesota Christian's all-time scoring leader finishes his career with 1,736 points. The Camden Conference North's Most Valuable Player averaged 19.3 ppg and 5.3 apg. He helped lead the Bluejays to the Section 3A championship game and a 25-4 record.
Mulder was an integral part of CMCS' state Class A tournament team in 2021. He is headed to Northwestern University of St. Paul to continue his basketball career.
"Case was a four-year starter for CMCS," Bluejays head coach Ted Taatjes said. "Case impacted the game on both ends of the floor. He is an incredible on-the-ball defender and did a great job of getting his teammates involved in the offense while also leading our team in scoring."
Kaden Pieper
6-3, Jr., G, BBE
He led the Central Minnesota Conference in scoring and was a key to BBE's conference and section championships, as well as its long state run.
Pieper was named to the All-State Class A Tournament team and was named the CMC's player of the year. He already has 1,338 points, which is currently third at BBE, as well as 428 career rebounds and 148 career assists.
Pieper averaged 19.3 ppg, 6.1 rpg and 2.1 spg for the 28-5 Jaguars, who won the CMC with a 13-1 record. He shot 49.2% (244 of 492) from the field, including 35.8% (49 of 137) from 3-point range.
"Kaden has had an amazing season this year," Anderson said. "He has grown so much as a player and continues to improve. He is a great role model on and off the court for our younger players. Kaden wants to be the best he possibly can be as he puts a tremendous amount of time in the weight room and on the basketball court. He has been so much fun to coach!"
Recent stories from sports editor Tom Elliott.
Girls basketball report for Friday, Jan. 27, 2023, in west central Minnesota. Jaguars hold off Sauk Centre 46-41 before a packed house in Belgrade
Ryan King
6-2, Jr., F, BOLD
King moved up front and averaged 17.9 ppg, 7.9 rpg, 2.4 apg and 1.8 spg for the Warriors, who wound up 20-9 and advanced to the Section 2A-North final, losing to state tournament participant Sleepy Eye St. Mary's.
"Ryan had a great junior season for us as he transitioned to playing in the post for the first time in his career," BOLD head coach Jake Brustuen said. "He took that role and ran with it. And, although he was learning a new position, he was a constant presence for us down low and led our team in scoring. Ryan was our leading rebounder and scorer and continued to get better as the season went on."
Alex Kokenge
6-4, Sr., W/P, ACGC
A first-team All-Central Minnesota Conference selection who finished second in the conference in scoring (16.7 ppg) and led the league in rebounding (10.54). He was third in the conference in assists and fourth in steals. Overall, he averaged 16.3 ppg, 10.3 rpg and 3.7 apg with 61 steals, shooting 50% from the field. Also made 40 3-pointers. A fine football player who throws the shot and discus for the track and field team in the spring. Also plays trumpet in the band.
"He obviously was a catalyst for our team," ACGC head coach Terry Miller said. "He was kind of a do-it-all for us."
Isaac Post
5-11, So., G, MACCRAY
Post led the Wolverines by averaging 18.7 ppg with 3.7 rpg, 2.5 apg and 2.5 apg. He shot 52.4% from the field, including 43.4% from 3-point range.
An All-Camden Conference selection who was named to the all-tournament team at the Bremer Bank Holiday Classic. His 43.4% 3-point field-goal percentage set MACCRAY's single-season record. He also has 571 career points. He also participates in football, baseball and Fellowship of Christian Athletes.
"As a freshman, Isaac played alongside some accomplished seniors (who) drew most of the attention from defenses," MACCRAY head coach Lucas Post said. "This season, it was very apparent early that teams were totally focused on trying to stop Isaac.
"He consistently saw special defensive schemes to try to slow him down from total-deny, face-guarding and multiple players defending him to try to wear him down."
Ben Van Eps
6-2, Sr., F, CMCS
This All-Camden Conference selection helped lead Central Minnesota Christian to a North Division championship and a Section 3A final, where the Bluejays lost to Russell-Tyler-Ruthton in overtime.
He averaged 18.1 ppg and 7.3 rpg, scoring 1,103 career points. He will attend Dordt University and participate in track and field.
"Ben led by example," said Taatjes, the Bluejays' coach. "He brought the same effort and intensity to practice as he did to games.
"Ben was consistently relied upon to guard the opposing team's best player and developed an efficient mid-range game that allowed him to be the second-leading scorer on our team at 18.1 points per game."
Keegon Wicht
6-0, Jr., G, Dawson-Boyd
The all-round guard averaged 18.8 ppg, 4.8 rpg, 4.5 apg and 2.4 spg for the Dawson-Boyd Blackjacks, who finished the season with an 18-9 record, including a tie for second place in the Camden North Division with Kerkhoven-Murdock-Sunburg and behind CMCS.
Wicht earned all-conference honors and also plays football.
"He serves as our primary ball-handler, but we count on him to produce in the scoring column as well as getting others involved," Dawson-Boyd head coach Cory Larson said. "His improvement inside the 3-point arce helped in us being more efficient offensively."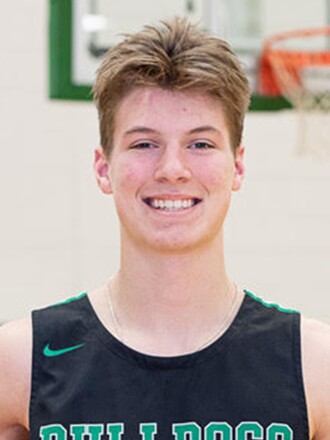 Chase Bayer
6-2, Sr., G, Paynesville
The three-sport athlete averaged 12.5 ppg, 5.0 rpg and 3.5 apg for the Bulldogs, who took second in the Central Minnesota Conference and were 17-11 overall.
He's a two-year starter and first-team all-conference selection. He overcame a concussion that ended the quarterback's football season. He's also a starter in baseball.
"He could go off for 20 points at any time," Paynesville head coach Rick Hendrickson said. "He's a real good outside shooter who led our team in steals and was second overall in rebounding. He's just a good athlete."
Tyler Froland
6-3, Sr., F, Renville County West
This two-time All-Camden Conference selection averaged 16.6 ppg, 8.5 rpg, 1.1 apg and 1.1 spg for Renville County West. He finished his career with 783 points and 425 rebounds and was the Jaguars' team most valuable player.
He is also an excellent baseball player who will play for North Iowa Area Community College next year.
"Tyler's dual-threat ability to score in the post as well as hit the long-range 3 made him a matchup nightmare for other teams," RCW head coach Matt Huhnerkoch said. "Tyler would be the focus of other teams defensively and he would still find ways to get his (points) every game. Tyler always showed up when his team needed him or when the bright lights came on. He is an extremely coachable kid and a very talented kid."
Landon Schirm
5-10, Sr., PG, LQPV
Schirm averaged 12.6 ppg, 4.8 rpg, 5.8 apg and 3.4 spg. He scored 328 points and finished his career with 514 points, 315 assists and 177 steals. He shot 46.5% (120 of 261) from the field, including 32.8% from 3-point range.
He's a two-time All-Camden Conference selection who is second all-time in Lac qui Parle Valley school history in assists and steals. He also plays football and baseball and plans to attend Minnesota State-Moorhead.
"Landon was the catalyst for us at both ends of the floor, using his speed and decision-making to create opportunities for himself and his teammates," LQPV head coach Barry Besonen said.
Blake Schoolmeester
6-6, Jr., F, Willmar
Schoolmeester was one of the keys to Willmar's late-season surge that saw the Cardinals win four of their last six regular-season games, including a 77-74 over Class AAA state entrant St. Cloud Tech.
Schoolmeester averaged a team-leading 10.9 ppg, was second at 5.0 rpg and also averaged 1.4 apg. He shot 50.8% from two-point range and made 28 3-pointers. He earned All-Central Lakes Conference honors. He works in the Willmar Park and Recreation Department and enjoys working with kids.
"He improved a lot this year in many ways," Willmar head coach Jeff Holtkamp said. "He did improve on his rebounding as the year went on. He's a real good shooter at times. He's consistently working in the gym."
Landon Stock
6-2, Sr., F, Montevideo
The All-West Central Conference selection also earned WCC performer of the week honors while averaging 12.6 ppg, 5.8 rpg and 1.2 spg. He did it while shooting 52% from the field and 74% from the free throw line.
Among his accomplishments were six double-doubles this season, including 30 points and 12 rebounds in a section game against Jackson County Central. He also works part-time at Friendship Homes in Montevideo.
"Landon Stock was a difference-maker for our basketball team this season," Montevideo head coach Derek Webb said. "He was a main contributor on both ends of the floor for us and a big reason why we took a major leap this season as a program.
"His knack for finishing around the rim and his rebound timing are just a few qualities that stick out with this young man. His love and passion for the game of basketball is without question and he shows it when he is out on the court. Landon Stock is an absolute game changer."
Junior class leads the way for area's top players
Here are recent stories on boys basketball.
Top teams: Class AAAA - Park Center, Class AAA - Totino-Grace, Class AA - Lake City, Class A - New Life Academy