Girls basketball: A dream falls short for Belgrade-Brooten-Elrosa Jaguars
BBE wanted a state title, but couldn't knock off No. 1 Mountain Iron-Buhl in the Class A semifinals, falling 61-57
MINNEAPOLIS — Tears flowed from Belgrade-Brooten-Elrosa head coach Kristina Anderson at the post-game press conference. There were moist eyes for Jaguars team members Abby Berge, Allison Dingmann and Harley Roering as well.
Tough losses at state have a way of doing that..
"It hurts," Berge said. "Being our last shot, it's a dream growing up that you always had — wanting to win the state title — and we fell a little short."
Top-seeded Mountain Iron-Buhl rallied from an 11-point, second-half deficit to beat fifth-seeded BBE 61-57 Friday afternoon in the state Class A semifinals at Williams Arena.
MIB plays for the state championship at noon Saturday at Williams against third-seeded BOLD. BBE plays in the third-place game at 10 a.m. Saturday against second-seeded Hayfield at Concordia University in St. Paul.
"The message was, just stay calm," said Rangers head coach Jeff Buffetta as the MIB looked at a 48-37 deficit with 9:55 to play.
The Rangers did. They went on a 14-0 run, aided by their defense and a dry spell for BBE's offense. They took control, led by senior guard Sage Ganyo and Jordan Zubich, a University of North Carolina recruit.
Ganyo wound up with 23 points and Zubich scored 17, including 14 in the second half after BBE frustrated the talented junior guard, who was guarded for a good chunk of the game by Berge, a Minnesota State-Moorhead recruit.
"She's the real deal," Berge said as she wiped away tears.
This was almost an upset for Berge and Jaguars, who wanted to show they were a lot better than the 84-62 loss they suffered to the Rangers on Dec. 29 at the Breakdown Granite City Classic.
They led most of the way, getting an unexpected key contribution from Roering, a senior guard who hadn't played since Feb. 3 against Atwater-Cosmos-Grove City after suffering a second anterior cruciate ligament injury to her left knee.
She told Anderson earlier this week that she was ready to go, despite having the first of two surgeries scheduled in April to repair the damage to her ACL. It's what hit BBE's coach hard emotionally. Besides wanting to see Berge, Dingmann, Roering and fellow seniors Tiyana Schwinghammer and Ella Haloverson go out as state champions, Roering was willing to grind it out despite a bad knee that she originally hurt playing off-season volleyball in May 2021.
"I honestly thought she was kidding," Anderson said, noting that Roering hadn't practiced in a month. "It was one of the coolest moments I've had as a coach."
Roering's 12 points, all on 3-pointers, helped stun the Rangers, who had little go right in the first 26 minutes of play against BBE.
Asked why she didn't play in Thursday's 60-44 quarterfinal win over Underwood, Roering replied, "They didn't need me."
It helped lighten the mood in the U of M meeting room in the basement of Williams Arena where the post-game press conference took place. Dingmann, who had six points, eight rebounds and a block, pointed out that BBE also had played MIB last summer in a Breakdown tournament in Hopkins.
"That was a close one, too," she said.
Buffetta and the Rangers were highly complimentary of the Jaguars, knowing as the top seed they are targeted by everyone they play.
"Give them credit," said Buffetta, who also is MIB's head boys basketball coach. "Their length really gave us trouble today."
MIB now goes for its first state championship. The Rangers have second-place finishes in 2012 and '17 on their resume to go with 12 state appearances in the past 13 seasons. But they've never won a title. They say they're ready, regardless of Saturday's opponent in the finals.
"We have a little more experience this year," Zubich said. "Our boys football team (that won the state title in December) was down by 17. We kept reminding ourselves that anything can happen."
And for BBE, the legacy will be the first three state appearances in school history in four seasons, including a second-place finish in 2021.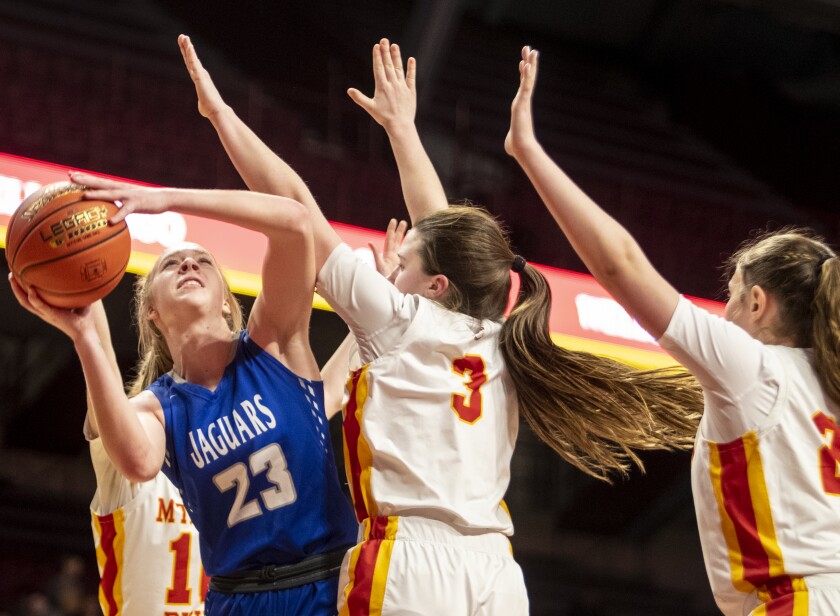 MIB (29-3) 26 35 — 61
BBE (26-5) 32 25 — 57
MIB - Scoring: Sage Ganyo 23, Jordan Zubich 17, Hali Savela 8, Anna Neyens 5, Gabby Lira 4, Suzy Aubrey 2, Ava Luukkonen 2 … 3-point shots: Zubich 2, Ganyo 1, Neyens 1 … Rebound leader: Savela 7 … Assist leaders: Ganyo 4, Zubich 4 … Steal leader: Savela 5 ... Block leader: none
BBE - Scoring: Abby Berge 18, Harley Roering 12, Tiyana Schwinghammer 10, Brooklyn Fischer 9, Allison Dingmann 6, Adley Hagen 2 … 3-point shots: Roering 4, Schwinghammer 2, Fischer 1 … Rebound leader: Dingmann 8 … Assist leader: Schwinghammer 4 … Steal leader: Berge 3 ... Block leaders: Dingmann 1, Berge 1, Schwinghammer 1