Girls Basketball Preview 2022-23: LQPV Eagles' expect strong performances from four returning starters
Eagles have lots of optimism after a strong 2021-22 season
We are part of The Trust Project.
MADISON — Expect the Lac qui Parle Valley Eagles to be competitive, with the ability to improve upon last year's 12-4 Camden Conference North Division and 19-8 overall record.
Click headline to see more girls basketball previews for the 2022-23 season.
Four starters return to the girls basketball team, including senior point guard Taylor Shelstad and senior post Camryn Lee, both all-area players during a 2020-21 season.
"We return four juniors with a bunch of experience," said Dylan Erickson, who had a 34-13 career record through three seasons as LQPV's head coach. "With our experience we have a nice complement of young players hungry to make an impact and find a role with this team."
Click headline to see this team's basketball schedule for the 2022-23 season.
The optimism starts with the four returning starters, including Shelstad. She's a 5-foot-10 senior guard who was an all-state honorable-mention last year. She earned West Central Tribune All-Area honors, was the team MVP and scored her 1,000th career point as a junior. She averaged 17.1 points, 6.4 rebounds, 5.2 assists and 3.3 steals per game.
Another all-area player is Lee, a 6-foot-1 senior post. Also back is Rylee Lund, a 5-4 senior guard and Ayanna Gipson, a 5-6 senior guard. That group will be the key to LQPV's successes.
Shelstad will be in her fourth season as a starting point guard. Lee is a tough inside player who can also shoot 3-pointers. She averaged 16.7 points and 7.3 rebounds per game. Lund, missed a large chunk of last year with an anterior cruciate ligament injury. Gipson is a lock-down defensive player.
"Camryn Lee continues to grow her game and can dominate inside," Erickson said.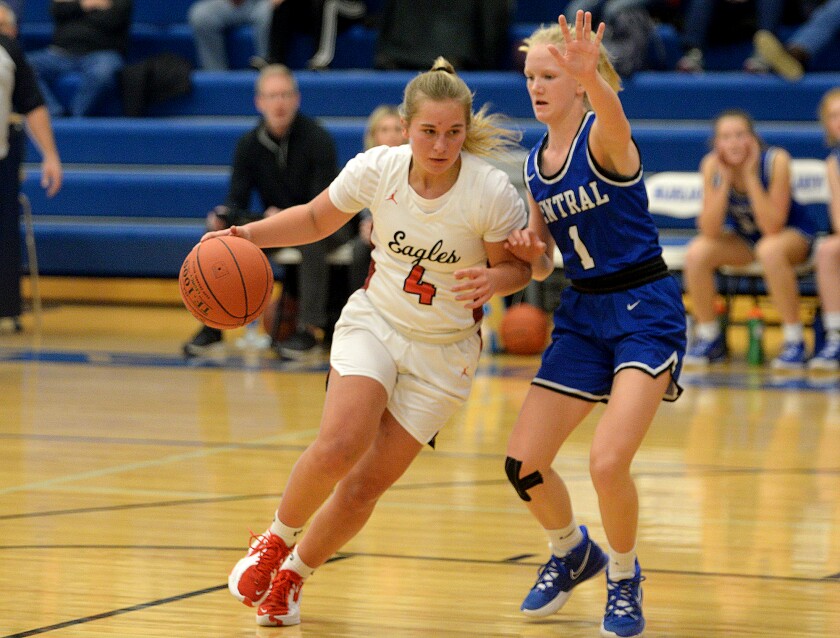 Four players figure to contribute heavily in helping to replace graduated seniors Tori Bungarden and Addy Bonn. They are Isabel Gerdes, a 5-4 junior guard, and Kya Kranz, a 5-11 junior post, as well as sophomore guards Jalyn Lee and Kayla Jahn.
"Isabel Gerdes is a tough guard who gives us another threat from the outside and is able to create for herself and others," Erickson said. "Kya Kranz, Jalyn Lee and Kayla Jahn will step into bigger roles and provide much-needed depth. Our bench will be a huge influence on how this season goes."