Gymnastics: NLS nabs second straight section title
Wildcats win with a school record score of 143.850
We are part of The Trust Project.
LITCHFIELD — Consistency was key for New London-Spicer gymnastics.
The Wildcats are state bound for the second straight year after scoring a school record 143.850 to win the Section 6A championship on Saturday.
"We were consistent on everything we did the whole day," said NLS head coach Cindy Jacobson. "We had some ups and some downs. But we have a lot of depth and kept with it. They had a great day."
Willmar finished in second place with 137.900. Maple Lake (137.525), Benson/Kerkhoven-Murdock-Sunburg (137.250) and Litchfield (136.175) rounded out the top five. Paynesville/Eden Valley-Watkins was eighth with 115.175.
"It was really fun and I didn't imagine we'd break the school record, too," said Wildcats freshman Abby Knudsen. "It's a little surreal."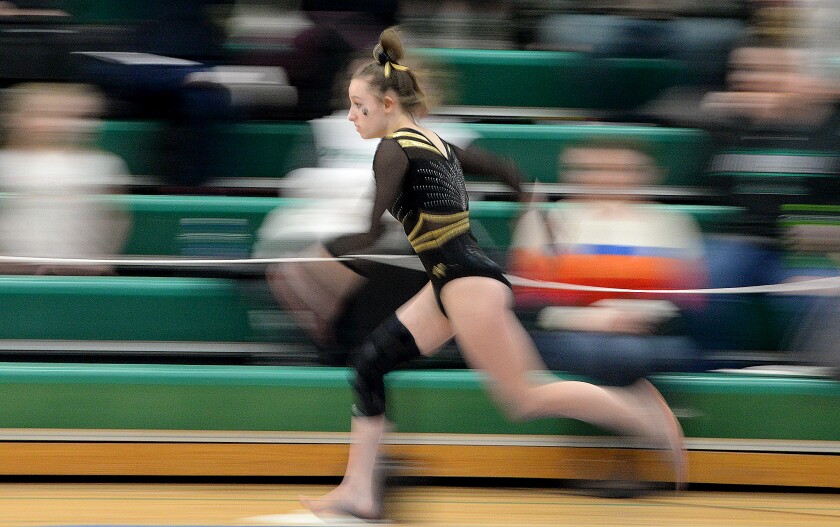 There was some trepidation for NLS at the start of the meet. The team's first event was the balance beam. A few ill-timed falls and the Wildcats' confidence could be shot the rest of the day.
But, NLS emerged from the beam with three top-five scores from Abby Knutsen (third, 9.2), Kaitlyn Preheim (fourth, 8.975) and Anderson (t-fifth, 8.8). All three will compete at state in beam.
"I was really nervous; that was what I was most nervous for," Knutsen said about starting on beam. "But it felt good to go up there and do well and start the meet that way."
The Wildcats got three state-bound gymnasts in the floor exercise in Anderson (t-third, 9.275) Preheim (t-fifth, 9.225) and Kaisa Williams (t-fifth, 9.225).
Anderson was the section champion in the vault with a score of 9.425.
It wasn't until a strong performance in the final event, the uneven bars, where Jacobson was sure her team was going to state for the third time in school history (2007, '21). Three more Wildcats are headed to state in the bars: Anderson (third, 9.025); Kamryn Quenemoen (fourth, 8.875); and Knudsen (fifth, 8.7)
"It was our highest bar score of the year," Jacobson said. "We made some changes and I think that really helped the girls."
Said Anderson, "Me and (Quenemoen) added our bails in; we just started that a few weeks ago. And we're already doing pretty good on those."
The Class A state team championship meet will take place at 6 p.m. Friday, Feb. 18 at Roy Wilkins Auditorium in St. Paul.
There was only one hiccup to Libby McGeary's day. That came on the floor exercise.
It had nothing to do with her routine. Rather, she had to delay the start of it when her music wouldn't get cued up.
"I was kind of getting a little nervous," McGeary said after a laugh. "It was all good after the music started playing."
Once she got beyond that, McGeary put together a strong section showing. The Benson/KMS junior won the section all-around for the second straight year with a combined score of 37.125. In second place was Maple Lake's Elizabeth Borget at 36.675.
"I thought my bars were pretty good, vault was OK," McGeary said. "I fell on beam but still got a decent score, and floor was pretty good."
McGeary and Borget tied for the section championship on the beam after scoring a 9.225. McGeary placed second in the other three events: vault (9.35); floor (9.325); and bars (9.225).
This will mark McGeary's third straight trip to the state tournament, with all three as an all-around competitor. She is the defending Class A state champ in the balance beam after scoring a 9.6 last season at Champlin Park High School.
"I just got to remember to relax and everything will go right," McGeary said.
With a slight grin, it was clear that Lyndi Koosman was confident in her floor routine.
"You could tell it in her floor routine after her second pass, she could tell," said Willmar head coach Josie Kent. "She had this smirk on her face and she was super proud of what she was doing. Her last pass was great.
"You couldn't have asked for a better routine for her."
The Willmar sophomore's intuition proved correct as her floor score of 9.4 was good enough to win the section championship.
"I was super excited," Koosman said after hearing her score. "I knew I had to show it off and today was the day I had to do that.
"I stuck all my jumps and that felt really good. I just knew I had to finish my last pass because I took minimal steps on everything else and I stuck that."
Koosman also secured a state spot on the bars after placing fifth with a score of 8.85.
Then on the vault, the Cardinals will send three to state: sophomore Kylie Porttiin (third, 9.325); Koosman (fourth, 9.25); and eighth-grader Mallory Beier (9.2).
"Our vaults were a definite highlight for us in this meet," Kent said. "It was a really good time and a really good vault set."
Combined with the second-place team finish, Willmar was elated by Saturday's results.
"From even a week ago at conference to today, we saw better routines and better scores," Kent said. "As they were doing it, we could tell it was going to be their best meet of the season, which is the right way to end."
Koosman added, "We knew it was going to be really close. It was really exciting for us because we weren't expecting to get second but we knew we'd be up there."
Litchfield senior Grace Borowicz will also go to state after tying for fifth place on beam with a score of 8.8.
The Class A individual championship meet will be held at 6 p.m. Saturday, Feb. 19 back at Roy Wilkins Auditorium.
(1) New London-Spicer 143.850 (2) Willmar 137.900 (3) Maple Lake 137.525 (4) Benson/Kerkhoven-Murdock-Sunburg 137.250 (5) Litchfield 136.175 (6) Annandale 124.100 (7) Morris/Chokio-Alberta 116.025 (8) Paynesville/Eden Valley-Watkins 115.175
(State qualifiers)
ALL-AROUND — (1) Libby McGeary, B/KMS, 37.125 (2) Elizabeth Borgert, ML, 36.675 (3) Ciera Anderson, NLS, 36.525
VAULT — (1) Anderson, NLS, 9.425 (2) McGeary, B/KMS, 9.35 (3) Kylie Porttiin, W, 9.325 (4) Lyndi Koosman, W, 9.25 (5) Mallory Beier, W, 9.2
BARS — (1) Borgert, ML, 9.4 (2) McGeary, B/KMS, 9.225 (3) Anderson, NLS, 9.025 (4) Kamryn Quenemoen, NLS, 8.875 (5) Koosman, W, 8.85 (6) Abby Knudsen, NLS, 8.7
BEAM — (1t) McGeary, B/KMS; and Borgert, ML, 9.225 (3) Knudsen, NLS, 9.2 (4) Kaitlyn Preheim, NLS, 8.975 (5t) Anderson, NLS; and Grace Borowicz, L, 8.8
FLOOR — (1) Koosman, W, 9.4 (2) McGeary, B/KMS, 9.325 (3t) Anderson, NLS; and Borgert, ML, 9.275 (5t) Preheim, NLS; and Kaisa Williams, NLS, 9.225
Joe Brown is a sports reporter for the West Central Tribune. He can be reached via email at: jbrown@wctrib.com or his office number: 320-214-4332.
LQPV leads the way with four selections, followed by KMS and Litchfield.
Dreyer Homan is named to 10-person Class A state team at Target Field.