Playoff softball: Willmar carries on in 8AAA playoffs
Cardinals win playoff opener at home against Sauk Rapids, 14-11
We are part of The Trust Project.
WILLMAR — The Willmar softball team prevailed in its first home playoff game in four years.
Hosting fifth-seeded Sauk Rapids in the opening round of the Section 8AAA playoffs on Tuesday, the Cardinals used a nine-run bottom of the fourth inning to get the 14-11 win at Willmar High School.
"It was an exciting game for the fans and one that I had a lot of fun coaching," said Willmar first-year head coach Christian Brown. "It truly was a team win tonight. We had to call on a lot of girls to step up and help out the team and they responded to the call. It felt good to get a home win, let alone a section home win. I have to give a lot of credit to the girls for a hard-fought win."
Brown added, "We now are looking to carry the momentum of tonight over into Thursday when we take on Rocori."
The Cardinals face the top-seeded Spartans at 4 p.m. Thursday in Cold Spring. The loser will play at 6 p.m. in the elimination bracket. The winner plays on Tuesday, May 31 in the semifinals.
Hosting a playoff game for the first time since 2018, the Cardinals jumped out to a 4-0 first-inning lead. They got another run in the second.
The Storm were able to come back with three runs in the second and two in the third to tie the game at 5-all. Sauk Rapids went beyond that with a four-run top of the fourth.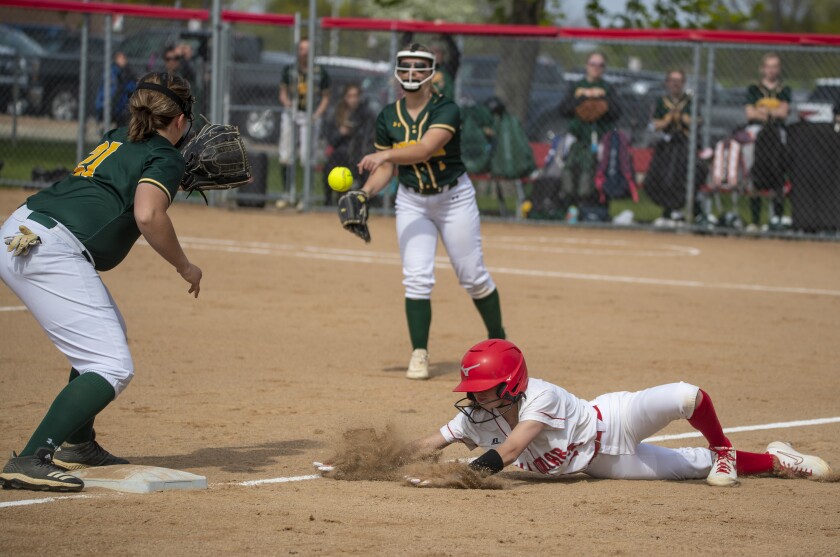 Then the floodgates opened for Willmar.
In the bottom of the fourth, the Cardinals scored three runs on two errors and got another on a bases-loaded walk by Katelyn Garberding. They finished up the frame with a two-run single by Cadence Parker, an RBI double from Hannah Magnuson and a two-run single by Zoe Schroeder.
"(Magnuson), Zoe Schroeder and Mari Enstad came up with clutch hits when we needed them," Brown said. Magnuson was 2-for-4, Schroeder 3-for-3 and Enstad 2-for-3.
In the circle, Lily Reed got the win after striking out five over 5-2/3 innings.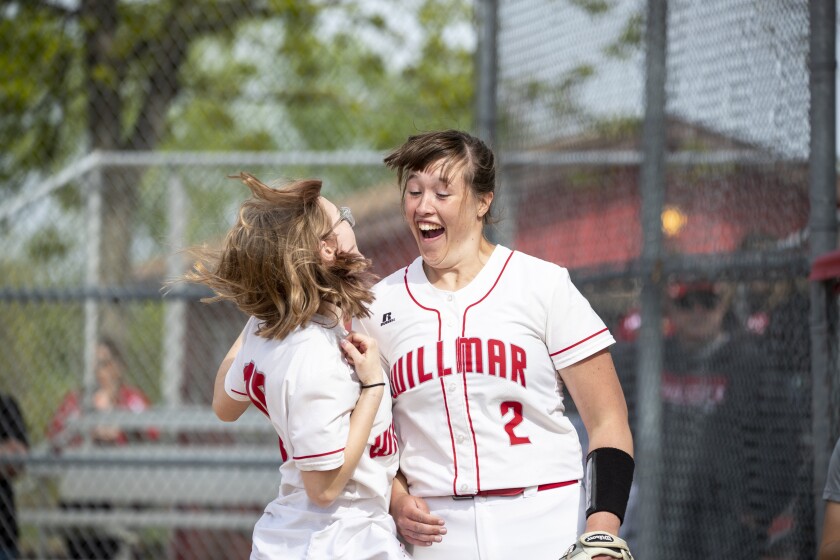 Willmar 14, Sauk Rapids 11
Sauk Rapids 032 420 0-11 11 3
Willmar 410 900 x-14 11 3
Hitting - Sauk Rapids: Chloe Reiter 1-4 r rbi bb, Catherine Gilbertson 1-4 r, Corina Miller 1-4 r bb, Turek 2-4 r rbi, Lilli Berger 2-5 r, Maggie Fernholz 1-3 r-2 bb, Isabelle Mortland 3-4 r-2 … Willmar: Hannah Magnuson 2-4 r-4 rbi-2, Zoe Schroeder 3-3 r-2 rbi-2 bb, Madison Norsten 1-2 r-2 rbi, Marin Enstad 2-3 r-2 rbi-2 bb, Cadence Parker 2-2 r rbi-2 bb
Pitching (ip-h-r-er-bb-so) - Sauk Rapids: Annie Mae Westergren (L) 4.2-11-8-7-3-5, No. 20 1.1-0-3-2-1-0, Turek 0-0-3-2-1-0 … Willmar: Lily Reed (W) 5.2-8-5-4-3-5, Grace Bjur 1.1-3-6-2-5-3
Recent prep softball coverage from west central Minnesota.