Prep Cross Country: Lakers shine bright
Minnewaska girls take first, boys second at West Central Conference championships.
We are part of The Trust Project.
OLIVIA — The Minnewaska Lakers' girls and boys showed up and shined bright at the West Central Conference championships, taking first and second place on Monday at Olivia Golf Club.
"It's awesome. You want your kids to always be peaking at the right time of the season," Minnewaska head coach Jennifer Johnsrud said. "The girls raced really well. We've had a goal to win the conference."
Minnewaska's girls won the WCC title for a fourth straight season with 41 points. Next was Melrose (57), West Central Area (60), Morris/Chokio Alberta (87), Sauk Centre (136), Benson/Kerkhoven-Murdock-Sunburg (158) and Montevideo (203). Morris/Chokio-Alberta's Hailey Werk took the title in 19 minutes, 59.0 seconds.
Sauk Centre won the boys WCC title, posting 53 points. Minnewaska scored 73 points to finish ahead of Montevideo (76), West Central Area (81), Melrose (88), Morris/CA (130) and Benson/KMS (140). Sauk Centre's Brandon Kampsen, ranked No. 2 for Class A individuals, decisively won the race in 15:56.6. Minnewaska junior Maeson Tank took second in 17:25.7.
Leading the Lakers' girls to the WCC championship was freshman Lauryn Ankeny. She finished in second place with a time of 20:28.3 seconds.
Minnewaska girls take first, boys finish second. Montevideo boys take third.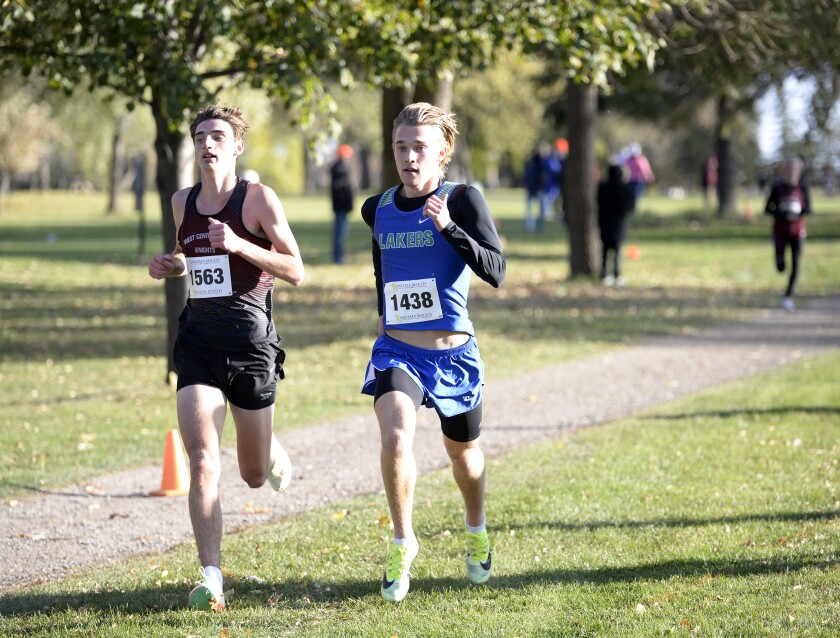 "Lauryn is the definition of what we call 'Laker tough' on our team," Johnsrud said. "She works so hard all the time and she's competitive. … She's just an athlete beyond her years."
Minnewaska, ranked No. 11 in Class A, saw all seven of its runners finish in the top 25.
Alongside Ankeny, seniors Kiearra Wilmes and Elsey Hagen placed in the top 10. Wilmes finished fourth in 20:50.0 and Hagen finished eighth with a time of 21:28.0.
"I'm glad we could keep the streak going," Ankeny said. "I'm really happy that my teammates could run fast times and place high."
Rounding out top-10 finishers for West Central Tribune area girls was Benson/KMS junior Amber Rosemeier. She placed 10th with a personal-best time of 21:52.8.
As for Minnewaska's boys, their top five all finished in the top 25.
Nick Ankeny took 13th in 18:44.9 and Zach Palmer was 14th in 18:48.9 for Minnewaska.
"I was really happy that everyone pulled through and had great times," Tank said. "I think we're talking about taking third or fourth in sections, but we're going to have to step it up another notch."
Montevideo had four runners finish in the top 25. Senior Brady Andrew was the Thunder Hawks' top finisher, placing fifth in 17:54.3.
Two other Montevideo runners slid into the top 15. Carson Lynner finished in 12th with a personal-best time of 18:40.6 and Blake Andrews nabbed 15th in 18:53.5.
To round out strong performances of West Central Tribune area boys, BOLD/Buffalo Lake-Hector-Stewart senior Niko Garcia finished eighth with a personal-best run of 18:12.3.
Team scoring
(1) Sauk Centre, 53 … (2) Minnewaska, 73 … (3) Montevideo, 76 … (4) West Central, 81 … (5) Melrose, 88 … (6) Morris Area/Chokio-Alberta, 130 … (6) Benson/Kerkhoven-Murdock-Sunburg, 140
Individual
TOP FIVE — (1) Brandon Kampsen, SC, 15:56.6 … (2) Maeson Tank, Minn, 17:25.7 … (3) Roman Mihailovschi, WCA, 17:28.5 … (4) Jacob Drevlow, SC, 17:32.3 … (5) Brady Andrews, Mont, 18:10.1
MINNEWASKA — (2) Tank … (13) Nick Ankeny, 18:44.9 … (14) Zach Palmer, 18:48.9 … (23) Ian Mills, 19:17.3 … (27) Jayce Kovarik, 19:37.4 … (41) Carter Dinsmore, 20:26.4 … (49) James Ward, 21:02.1
MONTEVIDEO — (5) Andrews … (12) Carson Lynner, 18:40.6 … (15) Blake Andrews, 18:53.5 … (22) Nelson Velasquez, 19:15.8 … (28) Ethan Andresen, 19:37.4 … (33) Peyton Smith, 19:54.1 … (45) Braden Nelson, 20:39.4
BENSON/KMS — (19) Isaac Wirth, 19:01.8 … (24) Noah Johnson, 19:18.4 … (30) Luke Froelich, 19:49.3 … (35) Logan Hadfield, 19:58.8 … (43) Quin Peterson, 20:29.7 … (48) Jack Helgenset, 20:58.0 … (50) William Jorschumb, 21:21.8
BOLD/BUFFALO LAKE-HECTOR-STEWART — (8) Niko Garcia, 18:12.3 … (17) Daniel Frank, 19:00.3 … (37) Carter Macik, 20:14.5
Team scoring
(1) Minnewaska, 41 … (2) Melrose, 57 … (3) West Central, 60 … (4) Morris/CA, 87 … (5) Sauk Centre, 136 … (6) Benson/KMS, 158 … (7) Montevideo, 203
Individual
TOP FIVE — (1) Hailey Werk, M/CA, 19:59.0 … (2) Lauryn Ankeny, Minn, 20:28.3 … (3) Kayla Meyer, Mel, 20:35.0 … (4) Kiearra Wilmes, Minn, 20:50.0 … (5) Kendal Fischer, M/CA, 20:51.2
MINN — (2) Ankeny … (4) Wilmes … (8) Elsey Hagen, 21:28.0 … (13) Aubrey Stark, 22:10.1 … (14) Piper Citrowske, 22:10.6 … (20) Teagan Stark, 23:03.7 … (24) Sydney Ankeny, 23:32.4
B/KMS — (10) Amber Rosemeier, 21:52.8 … (31) Alissa Thompson, 24:23.6 … (37) Katlyn Peters, 26:09.1 … (40) Valerie Hienkens, 27:06.9 … (44) Sophia Miller, 27:59.1 … (45) Lexie Thompson, 28:16.2
MONT — (36) Brooke DeJong, 26:06.3 … (41) Emily Valenzuela, 27:34.4 … (42) Meg Wanke, 27:35.4 … (43) Hope Rittel, 27:36.5 … (46) Brenna Winters, 28:26.2
BOLD/BLHS — (27) Kenna Henriksen, 23:46.8