Softball roundup: Minnewaska bows out against West Central Area
Prep softball report for Tuesday, May 24, 2022, in west central Minnesota. Morris/CA advances in 3AA-North; Litchfield in elimination bracket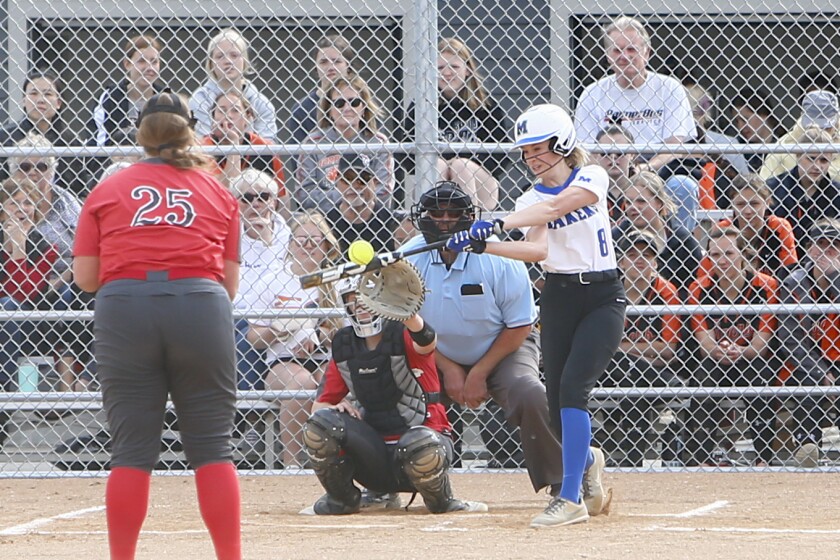 We are part of The Trust Project.
MORRIS — In a high-scoring 4-5 matchup, fourth-seeded West Central Area was able to thwart fifth-seeded Minnewaska to advance in the 3AA-North bracket on Tuesday.
The Lakers close out the season at 3-12.
Top-seeded Morris/Chokio-Alberta made it through the first round with a victory against eighth-seeded Atwater-Cosmos-Grove City at Morris.
The Falcons wrap up the season with a 2-17 record.
Top-seeded Morris/Chokio-Alberta remains in the winners' bracket after knocking off No. 4 West Central Area at Morris.
The Tigers will face Pipestone in the next round at 11 a.m. Saturday at the Marshall Softball Complex. The Arrows are the No. 2 seed in the South sub-section.
Dassel-Cokato 12, Montevideo 0
Montevideo's season came to an end as the seventh-seeded Thunder Hawks lost their opening-round game to No. 2 Dassel-Cokato in Cokato.
Montevideo closes out the season at 2-18.
Liv Holmgren and Karlee Prahl each had big games at the plate for third-seeded Litchfield in a first-round win over No. 6 New London-Spicer at Cokato.
Holmgren was 3-for-4 with a double, three runs and an RBI for the Dragons. Prahl was also 3-for-4 with a double, driving in three runs and scoring another.
In the circle, Taylor Draeger got the five-inning victory with eight strikeouts and zero walks.
Sydney Fiest and Courtney Ronning each had hits for the Wildcats. Emily Ruter was pegged with the loss.
NLS closes the year with a 2-16 record.
NLS 000 00-0 2 6
Litchfield 013 51-10 10 1
Hitting - NLS: Sydney Fiest 1-2, Courtney Ronning 1-2 … Litchfield: Liv Holmgren 3-4 2b r-3 rbi sb, Britney Prahl 1-4 r-2 rbi-2 sb, Izzy Pennertz 2-4 2b r rbi-2, Karlee Prahl 3-4 2b r rbi-3, Addi Marquardt 1-3 rbi, Anna Sorgatz 0-0 r, Ryanna Steinhaus 0-3 r sb, Cam Iverson 0-3 r
Pitching (ip-h-r-er-bb-so) - NLS: Emily Ruter (L) 4.2-10-10-3-2-2 … Litchfield: Taylor Draeger (W) 5-2-0-0-0-8
Dassel-Cokato's Evelyn O'Brien struck out 12 and held Litchfield to two hits as the No. 2 Chargers advanced past the No. 3 Dragons in Cokato.
Madilynn Yager and Bailey Quern were both 2-for-3 with an RBI for D-C. Quern added a run.
Liv Holmgren and Grace Braaten each had hits for Litchfield. Taylor Draeger took the loss.
Litchfield will play Windom in the elimination bracket at 1 p.m. Saturday in Marshall. D-C will take on Luverne at 11 a.m. in the winners' bracket.
Litchfield 001 000 0-1 2 3
D-C 210 001 x-4 6 0
Hitting - Litchfield: Liv Holmgren 1-3 rbi, Grace Braaten 1-2 r bb … Dassel-Cokato: Amy Kivisto 1-3 r, Madilynn Yager 2-3 rbi, Katelyn Rassat 1-3 r, Bailey Quern 2-3 r rbi
Pitching (ip-h-r-er-bb-so) - Litchfield: Taylor Draeger (L) 6-6-4-2-1-5 … Dassel-Cokato: Evelyn O'Brien (W) 7-2-1-0-3-12
Jackson County Central pitchers Mady and Hadley Wachal combined to throw a no-hitter as the third-seeded Huskies got a five-inning win over No. 6 Renville County West/BOLD at Pipestone.
Mady got the win after striking out eight over three innings. Hadley picked up two strikeouts in two innings.
Caylee Weber took the loss for the Jaguars. The first-year RCW/BOLD co-op ends the season at 10-11.
In other Section 3AA-South play, second-seeded Pipestone beat No. 7 Redwood Valley 10-0. In the second round, Pipestone advanced with a 5-3 win over JCC.
RCW/BOLD 000 00-0 0 3
JCC 240 4x-10 9 1
Hitting - RCW/BOLD: No hits … JCC: n/a
Pitching (ip-h-r-er-bb-so) - RCW/BOLD: Caylee Weber (L) 4-9-10-6-3-0 … JCC: Mady Wachal (W) 3-0-0-0-2-8, Hadley Wachal 2-0-0-0-3-2
Frankie Seelen threw a no-hitter for second-seeded Pierz in a second-round win over 10th-seeded Paynesville in Waite Park.
Seelan struck out eight while allowing three walks. Kendra Melby pushed the Pioneers' offense, going 3-for-3 with five RBIs.
Maddy McNab was hit with the loss for the Bulldogs.
Paynesville 000 00-0 0 4
Pierz 303 22-10 11 0
Hitting - Paynesville: Kylie Pauls 0-1 bb, Kianna Roeske 0-1 bb, Arianna Messer 0-1 bb … Pierz: Kendra Melby 3-3 rbi-5
Pitching (ip-h-r-er-bb-so) - Paynesville: Maddy McNab (L) 4-9-8-4-1-1, Messer 0-2-2-2-3-0 … Pierz: Frankie Seelen (W) 5-0-0-0-3-8
Sauk Centre 6, Paynesville 4
Sixth-seeded Sauk Centre put an end to 10th-seeded Paynesville's season in a section elimination game at Waite Park.
Brenna Bick was the top hitter for the Mainstreeters, finishing 3-for-3 with two RBIs. Madeline Nelson got the complete-game victory.
For the Bulldogs, Mikayla Roberg was 4-for-4 with a run and an RBI. Kianna Roeske and Kianna Brooks were both 2-for-4.
The Bulldogs conclude the year at 11-11. It was the last game for four seniors, Roberg, Roeske, Paige Ludwig and Kaitlyn Gilk.
Paynesville 300 100 0-4 13 4
Sauk Centre 011 202 x-6 9 2
Hitting - Paynesville: Mikayla Roberg 4-4 r rbi, Kylie Pauls 1-4, Kianna Roeske 2-4 r, Kaydence Roeske 1-4 r rbi, Kianna Brooks 2-4 rbi, Maddy McNab 3b rbi, Jada Bellmont 1-3 2b r, Katie Good 1-3 … Sauk Centre: Brenna Bick 3-3 rbi-2
Pitching (ip-h-r-er-bb-so) - Paynesville: McNab (L) 6-9-6-2-4-2 … Sauk Centre: Madeline Nelson (W) 7-13-4-4-0-2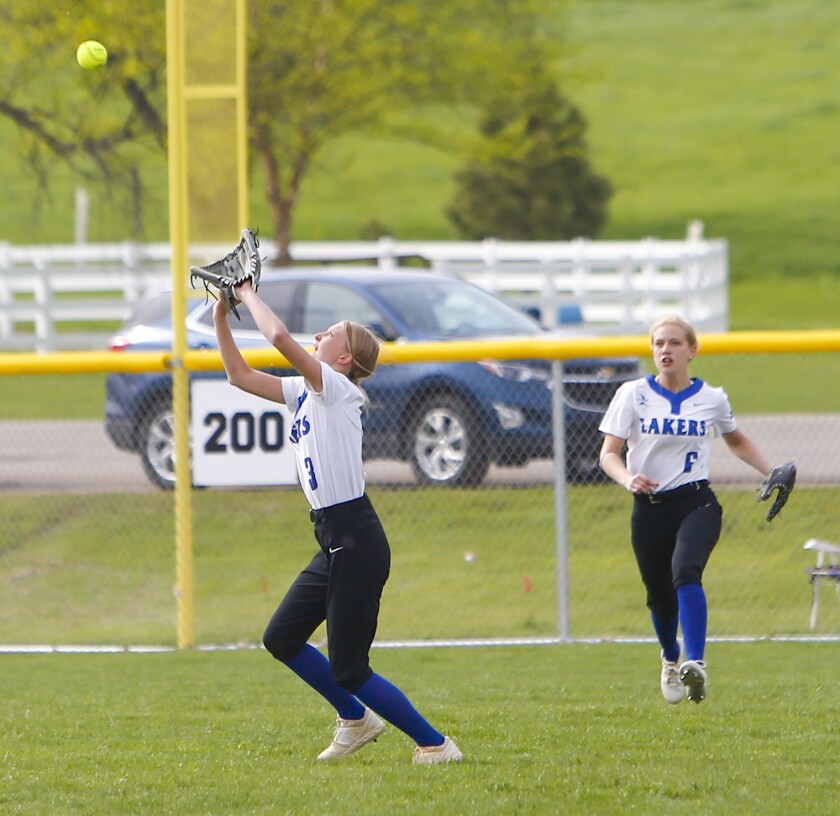 Recent prep softball coverage from west central Minnesota.