Tribune Notebook: There are a few area connections at state boys basketball this year
Orono, the No. 2 seed in the Class AAA boys basketball tournament, is coached by former Bird Island-Lake Lillian star Barry Wohler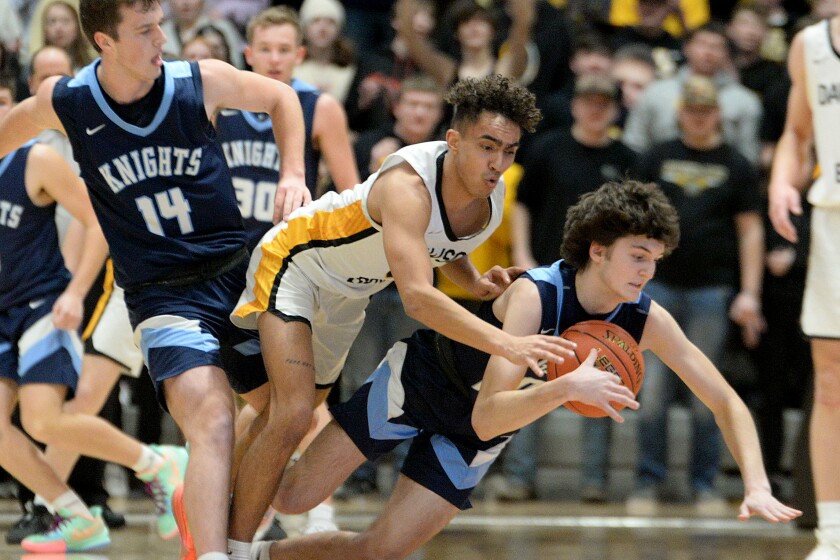 MINNEAPOLIS — For the first time since 2019 and only the second time since 2011, no West Central Tribune area boys basketball team is headed to the state tournament.
Dawson-Boyd was the area's last boys basketball team alive in the playoffs. The Blackjacks lost to Russell-Tyler-Ruthton 63-55 on March 15 in Marshall in the Section 3A final. R-T-R is 28-1 and its only loss is to Dawson-Boyd, which it split with during the regular season.
Toss out the 2020 pandemic year when the state tournament was canceled and the miss in 2019 and there has been at least one area team in the state tournament every year since 2011.
Belgrade-Brooten-Elrosa, which lost in the Section 5A-South championship to Border West this year, has been the most regular participant with four appearances, including last year's state Class A runner-up finish. The Jaguars also were second in 2011 and won state titles in 2012 and '14.
There are still some area connections heading into this week's state tournament, which takes place at the Target Center and Williams Arena.
The No. 2 seed in the Class AAA tournament belongs to Orono, which is coached by former Bird Island-Lake Lillian great Barry Wohler. Wohler's Spartans play Hermantown at 2 p.m. Tuesday at Williams Arena.
Central Lakes Conference champion Alexandria got the No. 5 seed in Class AAA and plays No. 4 Mankato East at noon Tuesday at Williams Arena just before Wohler's game.
Totino-Grace got the top seed and faces St. Francis at 10 a.m. Tuesday. No. 3 Minneapolis DeLaSalle plays Stewartville at 4 p.m.
Class AAA semifinals are noon and 2 p.m. Thursday at Target Center. The Class AAA final is 5 p.m. Saturday at Target Center.
In Class AA, Section 3AA champion Eden Valley-Watkins, which beat New London-Spicer on a last-second basket for the 3AA-North title, plays top-seeded Holy Family Catholic at 6 p.m. Tuesday at Target Center. The Eagles, making their first state berth, are unseeded.
No. 5 Minnehaha Academy plays No. 5 Maple River at 8 p.m. Tuesday at Target Center. No. 2 Albany faces Pequot Lakes at 6 p.m. Tuesday and No. 3 Plainview-Elgin-Millville plays Dilworth-Glyndon-Felton at 8 p.m. Tuesday.
The Class AA semifinals are 6 and 8 p.m. Friday at Target Center with the championship game set for 1 p.m. Saturday.
In Class A, R-T-R wound up with the top seed and plays unseeded Nevis at 11 a.m. 11 a.m. Wednesday at Williams Arena. No. 5 Border West plays No. 4 Cherry at 1 p.m., No. 2 New Life Academy of Woodbury faces East Grand Forks Sacred Heart at 3 p.m. and No. 3 Spring Grove plays Mankato Loyola at 5 p.m.
The Class A semifinals are noon and 2 p.m. Friday at Target Center with the championship game set for 11 a.m. Saturday at Target Center.
Former Willmar Cardinal star Jordan Smith is new manager of the Lynchburg, Virginia, Hillcats. It's a Class A affiliate of Major League Baseball's Cleveland Guardians. Smith, a former St. Cloud State star, was a long-time minor-leaguer in the Cleveland organization. Smith, 32, was a ninth-round pick of the then-Cleveland Indians in 2011 and played for Lynchburg in 2019.
Smith has coached in the Cleveland system since then. He managed the Arizona Complex League Guardians to a 28-24 record last fall.
Here are recent stories by Tom Elliott.
Four former Willmar Stingers are on the Northwoods League alumni hot prospects list.
Leading the way is Brooks Lee, according to a Northwood League press release. The switch-hitting shortstop from Cal Poly was the eighth overall selection in the 2022 MLB Draft. He reached high-A ball in Cedar Rapids, Iowa, last season, posting an .848 OPS (on-base plus slugging percentage) in 25 games. He also received some at-bats in double-A ball by the end of the season. He's seen as a top-50 MLB prospect and is considered the Twins' No. 1 prospect.
Another former Stinger on the list is Kyle Manzardo. A first baseman from Washington State, he played for the Stingers in 2020 and is considered the top power hitter in the Tampa Bay Rays organization. Last season in stops at high-A and double-A, he hit 22 home runs with 81 RBIs and a .327 batting average. He led all Rays minor leaguers in on-base percentage and OPS. He also was named the Rays' Minor League Player of the Year in '22 and is considered a top-60 MLB prospect.
Joey Ortiz played for the Stingers in 2018. He's a shortstop from New Mexico State in the Baltimore Orioles organization. Ortiz is considered the best defensive infielder in the Orioles' system, earning the organization's Platinum Glove Award. He hit .346 in 115 at-bats in triple-A last summer and is considered a top-100 prospect by MLB.
Pitcher Louie Varland also made the list. The right-hander from Concordia-St. Paul played in Willmar in 2017 and '18. Another Twins prospect, he made his major league debut Sept. 7 against the New York Yankees. Varland led the Twins' minor league system with 146 strikeouts and was first in innings pitched with 126-1/3. He was the Twins Minor League Pitcher of the Week four times and the Twins Minor League Pitcher of the Year for the second consecutive season.