Volleyball: Not in the Cards
Wright County West-leading Annandale knocks off Litchfield.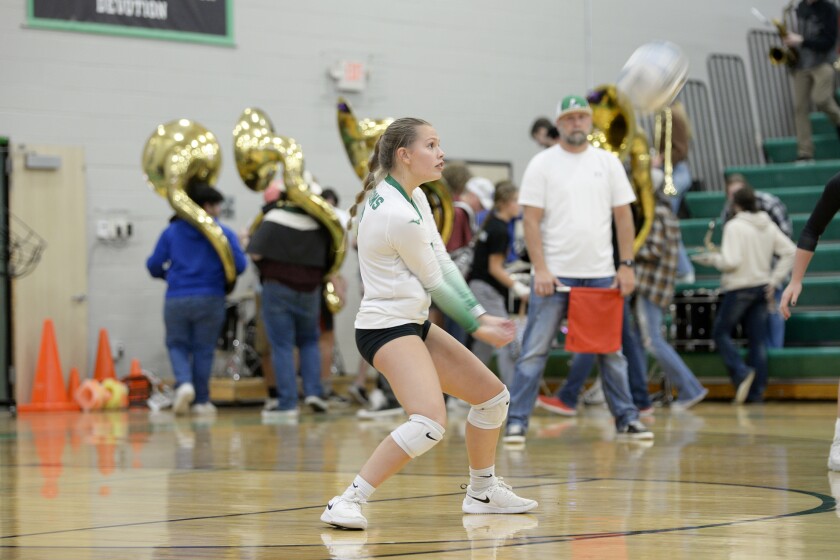 We are part of The Trust Project.
LITCHFIELD — Up against the best team in the Wright County Conference West Division, the Litchfield Dragons battled until the very end before suffering a sweep to Annandale on Thursday.
Annandale, which has not lost a match since Sept. 10, defeated the Dragons 25-20, 25-19 and 28-26.
"We knew Annandale was a very strong team; they don't really have a weakness," Litchfield head coach Darin Swenson said. "They have so many weapons. We came into the match a little banged up, so I was interested in seeing how our girls would step up. I was incredibly proud of the girls tonight."
The Dragons were without senior libero Grace Braaten, who was under the weather and away from the team during Thursday's match.
Without Braaten and up against a now 16-2 Annandale team, Litchfield needed some of its players to step up.
The Annandale Cardinals defeated the Dragons in three sets.
Leading the charge was senior middle hitter Greta Hansen. She tied senior middle hitter Isabelle Pennertz for a team-best eight kills, adding seven digs and one block ace.
"Greta Hansen played really well in the middle. She played all the way around and usually she just plays in the front row," Swenson said. "Greta made some huge digs and she stepped up in the moment."
Litchfield also faced one of the best players in Class AA in Annandale senior Kali Jones.
Jones was a member of the 2021 Minnesota Volleyball Coaches Association All-State Class AA Volleyball team.
"Our girls did a great job of responding to the moments when Jones would get a big kill," Swenson said. "They did a great job of staying focused and confident in their abilities."
On defense, the Dragons tallied a total of 37 digs with a team-high eight digs from senior setter Olivia Holmgren. Pennertz recorded two block aces alongside Hansen's sole block ace.
Litchfield was one point away from taking Annandale to a fourth set, leading 26-25 in the third set before the Cardinals snagged the next three points to cement their sweep.
"I thought our girls stayed in the match and battled," Swenson said. "That attitude and mental toughness is going to pay off. … Those are things that we are going to put into our memory bank for future games."
Annandale holds a 5-0 record in the Wright County West. Litchfield is 3-2 and tied with New London-Spicer for third place.
The Dragons play at 7 p.m. on Tuesday against visiting Glencoe-Silver Lake.
Annandale 3, Litchfield 0
Annandale (16-2) 25 25 28
Litchfield (13-10) 20 19 26
Annandale
Stats unavailable
Litchfield
Serving (aces): Ciarra Resmen 4, Olivia Holmgren 1, Anna Sorgatz 1 … Set assists: Holmgren 21, Resmen 2 … Hitting (kills): Isabelle Pennertz 8, Greta Hansen 8, Morgan Falling 6, Asha Ehlers 3 … Blocking (aces): Pennertz 2, Hansen 1 … Digs (5 or more): Holmgren 8, Resmen 7, Hansen 7, Falling 6