Volleyball roundup: Dawson-Boyd Blackjacks win a thriller over CMCS
Volleyball report for Monday, Oct. 24, 2022, in west central Minnesota. D-B opens Section 3A-North play with a 26-24, 26-28, 25-21, 26-24 win over Central Minnesota Christian School. Yellow Medicine East also prevails in five sets in 3A-North.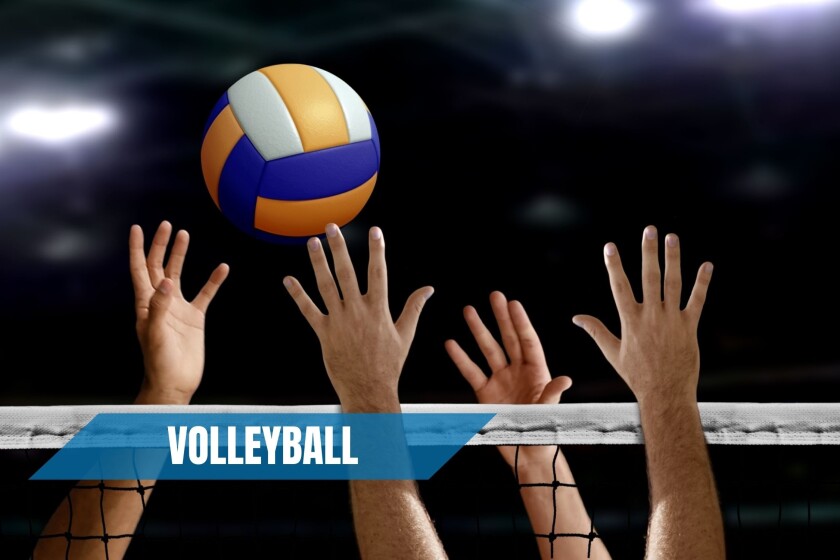 We are part of The Trust Project.
DAWSON — The Dawson-Boyd volleyball team expected a tough match with Central Minnesota Christian.
The two teams played to a five-set match, with the Blackjacks prevailing, on Oct. 11.
Dawson-Boyd and CMCS went at it again Monday night, but this time in the Section 3A-North playoffs. The Blackjacks edged the Bluejays again, 26-24, 26-28, 25-21, 26-24.
:"We went into tonight knowing we were going to have to battle and we did just that," Dawson-Boyd head coach Hailey Grimacker said. "We dug ourselves a couple of holes, but we're able to come out of them.
"This group is resilient and they make me so proud."
Dawson-Boyd is the No. 8 seed. CMCS was the No. 9 seed.
Ayiana Hastad and Kate Dahl led the Blackjacks' attack with 12 kills. Chelsie Husby contributed 35 set assists, 10 digs and four service aces. Bailey Bothun added 16 digs and three service aces.
For CMCS, Lilly Mellema had 10 kills and 11 digs. Avery Duininck added 16 set assists, 13 digs and three service aces and CC Roiseland added 14 digs and two ace serves.
The Blackjacks play at 7 p.m. Friday at No. 1 Minneota in the next round of the Section 3A-North playoffs..
Recent volleyball coverage from west central Minnesota.
At its board of directors meeting Thursday, the MSHSL approved a switch in the number of weight classes in wrestling and voted on a proposal to seed all eight teams in football state tournaments.
CMCS (8-19) 24 28 21 24
D-B (8-17) 26 26 25 26
CMCS
Serving (aces): Maddy Vander Ark 3, Avery Duininck 3, Morgan Groen 2, CC Roiseland 2 … Set assists: A. Duininck 16, Ava Schneiderman 5, Emmi Braem 4 … Hitting (kills): Lilly Mellema 10, Braem 6, Carrie Mulder 5, Janessa Erickson 5 … Blocking (aces): Groen 2, Erickson 2 … Digs (5 or more): Roiseland 14, A. Duininck 13, Vander Ark 12, Mellema 11
D-B
Serving (aces): Chelsie Husby 4, Ayiana Hastad 3, Bailey Bothun 3, Lindsey Lund 2, Alli Estling 2 … Set assists: Husby 35, Hastad 2, Reese Johnson 1, Kate Dahl 4, Bothun 3 … Hitting (kills): Husby 5, Hastad 12, Johnson 6, Dahl 12, Bothun 7, Estling 1, Hayley Anderson 9 … Blocking (aces): Hastad 2, Johnson 1 … Digs (5 or more): Husby 10,Hastad 9, Dahl 9, Bothun 16, Estling 14
Ruby Bones had 27 kills and Aria Peters had 53 set assists as Yellow Medicine East opened Section 3A-North play with a five-set victory over Lakeview at Granite Falls.
YME is the No. 7 seed. Lakeview was the No. 10 seed. The Sting play at 7 p.m. Friday at MACCRAY in Clara City.
Bones also had three ace blocks and Gracie Kleven added 11 kills and three service aces. Hannah Stark chipped in with 10 kills and Kiara Sakry had 22 digs for the Sting.
Lakeview (2-20) 25 25 19 24 9
YME (7-16) 23 18 25 26 15
Lakeview
Stats not available
YME
Serving (aces): Aria Peters 4, Gracie Kleven 3, Hannah Stark 3, Ruby Bones 1, Kiara Sakry 1, Riley Streich 1 … Set assists: Peters 53, Sakry 1 … Hitting (kills): Bones 27, Kleven 11, Stark 10, Nicole Rillo 6, Peters 3, Nevaeh Chaparro 1 … Blocking (aces): Bones 3, Chaparro 1 … Digs (5 or more): Sakry 22, Peters 12, Kayla Nordaune 7, Kleven 5, Bones 5
St. Cloud Cathedral 3, Litchfield 2
Granite Ridge Conference champion St. Cloud Cathedral needed five sets to edge Litchfield, rallying from a 2-0 deficit, to close out the regular season at Cathedral.
Greta Hansen had 16 kills and five ace blocks to pace the Dragons, who got 39 set assists from Olivia Holmgren and 23 digs from Grace Braaten.
Litchfield is host to West Central Area at 7 p.m. Friday in the Section 3AA-North playoffs. The Dragons are the fourth seed in 3AA-North. West Central is the fifth seed.
Litchfield (15-12) 26 25 15 23 13
Cathedral (18-8) 24 12 25 25 15
Litchfield
Serving (aces): Anna Sorgatz 4, Morgan Falling 3, Ciara Resmen 2, Olivia Holmgren 1 … Set assists: Holmgren 39, Resmen 1, Sorgatz 1 … Hitting (kills): Greta Hansen 16, Falling 9, Izzy Pennertz 9, Asha Ehlers 7, Holmgren 2 … Blocking (aces): Hansen 5, Pennertz 2, Holmgren 1 … Digs (5 or more): Grace Braaten 23, Falling 20, Holmgren 18, Sorgatz 11, Resmen 10, Ehlers 6
Cathedral
Stats not available