State Baseball: BOLD back on the brink
JORDAN -- Tim Peppel's moment of glory almost became a blooper. The BOLD sophomore was 90 feet away on third base representing the game-winning run with the Warriors and KMS tied 6-6 with one out and the bases loaded in the eighth inning of a Cla...
JORDAN - Tim Peppel's moment of glory almost became a blooper.
The BOLD sophomore was 90 feet away on third base representing the game-winning run with the Warriors and KMS tied 6-6 with one out and the bases loaded in the eighth inning of a Class A state semifinal.
When a wild pitch by Kerkhoven-Murdock-Sunburg went past the catcher, Peppel was off. And almost into the dirt.
"I stumbled halfway," Peppel admitted.
"He nearly gave me a heart attack," Warriors head coach Brian Kingery said in the background.
Peppel got a chance to laugh at that exchange because he kept his balance and beat the tag at home to send BOLD into the Class A championship with a 7-6 win Friday at the Mini Met.
"I stumbled and I thought, well, I've got to go now," Peppel said, "and I just ran. My nerves were going. Coach said to play it smart but I played it kind of dumb. He said if it shoots off the back, don't go. But I went anyways."
Kingery added, "He went aggressively and it's fine. The game was already tied. He made an aggressive play and he made it."
Peppel's sprint home capped off a wild bottom of the eighth that originally saw BOLD trailing 6-4 after the Fighting Saints put up a pair of runs in the top half. Cade Melin hit an RBI single that brought home Isaac Call, then Levi Sweere followed up with a sacrifice fly that put KMS ahead.
"I told them when they came in, 'Guys, we've talked about resiliency all year,'" Kingery said. "You got to be tough on the field, tough in life and handle adversity. And as long as we got an out, we got a chance."
BOLD managed to load the bases as Saints pitcher Weston Gjerde struggled with his control as he hit three batters and walked one. With the bases loaded, Luke Ryan hit an opposite-field single that scored Zeke Walton and kept the bases loaded for the Warriors' top player, Jordan Sagedahl.
"When Braeden (Tersteeg) got on with one out, a lot of stress went away," Ryan said. "I knew we had the best hitter on the team up next. I just wanted to get the bat on ball or get walked."
A swing of the bat wasn't needed. And it was a heartbreaking end for KMS's state title hopes.
"It's not the way you want to go out," said KMS head coach James Cortez. "It wasn't due to a lack of effort by any means. Sometimes, it doesn't work out for you and you got to give BOLD credit."
The Saints scored first thanks to a sacrifice fly by Noah Thorson in the third inning, only for BOLD to respond in the bottom half as Sagedahl connected with a three-run home run. The Warriors seemed to add some insurance with an RBI single by Hayden Tersteeg in the fifth, putting his team up 4-1.
But as BOLD saw from the bleachers Thursday when KMS played Randolph in the opening round, the Saints were plenty capable of putting together a big inning anytime.
"We knew they a good hitting team and a good all-around team," Ryan said. "We knew they could do it so we just had to stay strong and stay positive."
The top of the sixth saw KMS score three runs with an Alex Call sacrifice fly, an Isaac Call run on an error and a Sweere RBI single.
"The kids kept battling, getting on base and getting good at-bats," Cortez said. "We came up with a few hits, they made a few mistakes and let us back into it and we got the lead eventually."
BOLD did itself no favors throughout the game with five errors.
"You can't make mistakes against a team like that," Kingery said. "It was uncharacteristic."
But, the Warriors were able to battle through their troubles and reach the Class A state championship game for the first time since winning the title in 2013.
"Of course you'd want to win in a less stressful way," Ryan said. "But we got it done and I'm happy that we did."
Class A
Semifinals
BOLD 7, KMS 6
KMS 001 003 02-6 6 1
BOLD 003 010 03-7 7 5
Hitting - Kerkhoven-Murdock-Sunburg: Weston Gjerde 1-4, Regan Carlson 1-4 r, Isaac Call 1-3 r-2 hbp, Christian Diederich 1-2 sh, Cade Melin 1-4 r-2 rbi sb, Levi Sweere 1-2 rbi-2 sh sf, Alex Call 0-2 r rbi sf, Noah Thorson 0-3 rbi sf... BOLD: Braeden Tersteeg 1-4 rbi hbp, Luke Ryan 2-5 r-2 rbi, Jordan Sagedahl 1-4 hr r rbi-3, Hayden Tersteeg 1-2 rbi hbp, Riley Weis 1-3, Zeke Walton 1-3 r, Andrew Sheehan 0-2 r hbp, Matt Moorse 0-1 r, Tim Peppel 0-0 r hbp
Pitching (ip-h-r-er-bb-so) - Kerkhoven-Murdock-Sunburg: A Call 4.1-5-4-4-4-8, Gjerde (L) 3-2-3-3-3-2 ... BOLD: Moorse 5.1-4-3-1-2-3, H Tersteeg (W) 2.2-2-3-2-1-0
Third Place
Sacred Heart 13,
KMS 3
KMS trailed by just a run through five innings but Sacred Heart scored seven runs in the sixth and went on to claim the Class A third place trophy on Friday at the Mini Met in Jordan.
KMS' Weston Gjerde had two hits and drove in a run and Brody Forsell, Wylee Lottman and Levi Sweere had the Saints' other hits.
KMS finished the season 21-4.
Sacred Heart 002 207 2-13 16 3
KMS 010 110 0-3 5 0
Hitting - Sacred Heart: Brenden Bethke 3-5 rbi-2 r-2, Will Rohrich 1-4 hr rbi-2 r ... KMS: Weston Gjerde 2-4 rbi, Dylan Rudningen 0-3 bb, Regan Carlson 0-2 bb-2, Isaac Call 0-3 r, Brody Forsell 1-1, Alex Call 0-2 bb, Cade Melin 0-3 r bb, Wylee Lottman 1-2, Levi Sweere 1-1 2b, Chris Moist 0-0 r bb
Pitching (ip-h-r-er-bb-so) - Sacred Heart: Oscar Ortiz (W) 5.1-4-3-1-4-7, Sam Gapp 1.2-1-0-0-2-3 ... KMS: Rudningen (L) 3.2-6-4-4-2-8, Sweere 1.2-5-5-5-2-1, Gjerde 1.2-5-4-4-0-1
1
/
9:
The BOLD bench mobs teammate Tim Peppel after he scored the game-winning run in the Warriors' 7-6 victory over KMS in the Class A state baseball semifinals Friday at the Mini Met in Jordan. Joe Brown / Tribune
2
/
9:
BOLD's Jordan Sagedahl celebrates as he approaches home plate after a three-run home run in the third inning of Friday's game against KMS in the Class A state baseball semifinal game at the Mini Met in Jordan. Joe Brown / Tribune
3
/
9:
KMS's Cade Melin fist bumps assistant coach Justin Johnson after driving in a run in the eighth inning of Friday's game against BOLD in the Class A state baseball semifinals at the Mini Met in Jordan. Joe Brown / Tribune
4
/
9:
BOLD third baseman Andrew Sheehan makes a throw to first during Friday's game against KMS in the Class A state baseball semifinals at the Mini Met in Jordan. Joe Brown / Tribune
5
/
9:
KMS pitcher Alex Call uncorks a throw during Friday's game against BOLD in the Class A state baseball semifinals at the Mini Met in Jordan. Joe Brown / Tribune
6
/
9:
BOLD's Luke Ryan bolts for third base during Friday's game against KMS in the Class A state baseball semifinals at the Mini Met in Jordan. Joe Brown / Tribune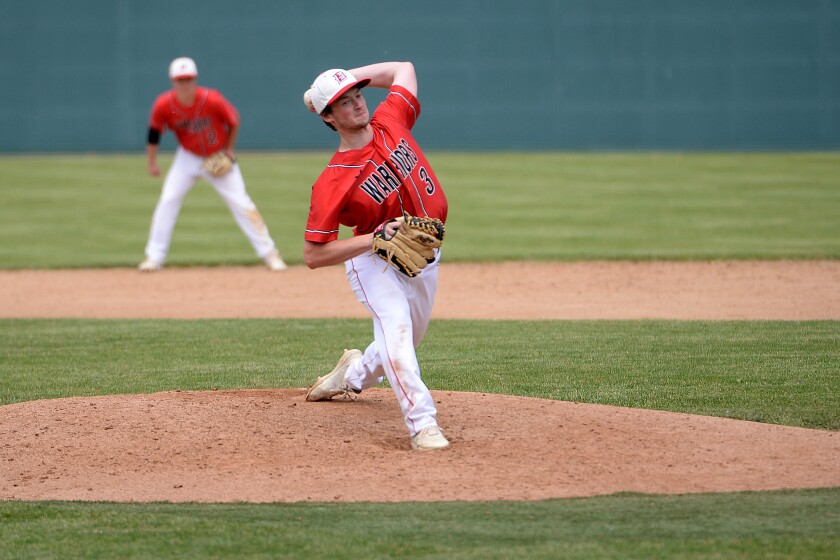 7
/
9:
BOLD's Matt Moorse sets to fire a pitch during Friday's game against KMS in the Class A state baseball semifinals at the Mini Met in Jordan. Joe Brown / Tribune
8
/
9:
BOLD second baseman Braeden Tersteeg (right) tags out KMS's Christian Diederich during Friday's Class A state semifinal game at the Mini Met in Jordan. Joe Brown / Tribune
9
/
9:
KMS's Isaac Call slides into third base during Firday's game against BOLD in the Class A state baseball semifinals at the Mini Met in Jordan. Joe Brown / Tribune