Tribune Notebook: Willmar quartet headed to the next level
Dawson headed to South Dakota State; Swanson, Roelofs, Bruhn going D-III
We are part of The Trust Project.
Four Willmar High School senior athletes recently made college sports commitments.
Nina Dawson signed to run track and field for Division I South Dakota State University. For the Cardinals, Dawson competes in cross-country in the fall, girls hockey in the winter and track and field in the spring. This track season, she has competed in the 200 meters, the 400, 800, 1,600, 4x400 relay and 4x800 relay.
Mason Swanson signed with Concordia College in Moorhead to play football at the Division III level. Swanson is also a three-sport athlete: football in the fall; wrestling in winter; and baseball in spring. The Cobbers were 4-6 in 2021 and are coached by 1985 Willmar grad Terry Horan.
Cade Roelofs also will go the Division III route, signing to play men's basketball at Crown College in St. Bonifacius. Along with playing basketball for the Cardinals, Roelofs was a football player in the fall. This past season, the Polars were 17-14.
Finally, Allison Bruhn has committed to play women's tennis for Divison III Minnesota-Morris. This past fall, Bruhn was the No. 1 singles player for the Cardinals. The Cougars are currently 5-6 heading into the Upper Midwest Athletic Conference tournament.
Estrada named to All-NSIC squad
Jasmin Estrada, a Litchfield grad and St. Cloud State senior, was named second team All-Northern Sun Intercollegiate Conference in softball.
Estrada is the first three-time All-NSIC selection in program history after gaining first-team honors in 2021 and second team in 2019.
A designated player for the Huskies, Estrada has a .433 batting average in 51 games with a .510 slugging percentage and .407 on-base percentage. She's hit seven home runs and four doubles with 20 RBIs and 24 runs scored. On April 15, she broke a school record for single-game hits with five against Upper Iowa.
With a 36-16 record, SCSU won its first game in the NSIC tournament with a 1-0 victory over Minnesota-Duluth on Thursday. They play Augustana on Friday.
Peter earns honor at SCTC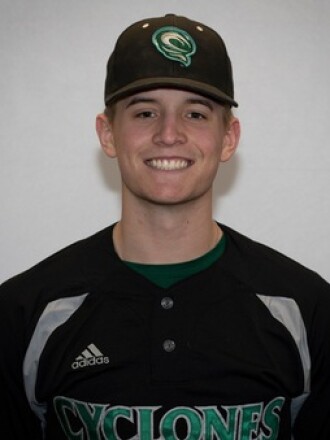 Former Belgrade-Brooten-Elrosa athlete Jackson Peter was named the John Haller Male Athlete of the Year at St. Cloud Technical & Community College.
A freshman baseball player for the Cyclones, Peter has a team-high .429 batting average,.532 on-base percentage and 26 RBIs along with a .675 slugging percentage in 25 games this season. His five home runs are tied for the team lead.
The Cyclones are currently 18-9 heading into its final series of the regular season against Rochester Community & Technical College.
Carlsons are Academic All-Americans
Former Willmar standouts Clay and Cael Carlson were named to the National Wrestling Coaches Assocation's Division I Scholar All-Americans.
Clay Carlson, a redshirt junior at South Dakota State University, is an animal science/pre-vet major. Wrestling at 141 pounds, Carlson qualified for the NCAA tournament for the second straight season, going 33-6. He was an All-American in 2020-21.
Cael Carlson is a redshirt sophomore at the University of Minnesota majoring in animal science. At 165 pounds, Cael qualified for the NCAA tournament for the first time this season. He finished the year with a 19-15 record.
Seven Academic All-State wrestlers
On Friday, the Guillotine released its Academic All-State team. Seven West Central Tribune area wrestlers were named, with BBE's Walker Bents and Kerkhoven-Murdock-Sunburg's Coy Gunderson named to the first team. Athletes were selected based on wins, state tournament placement and cumulative high school GPA:

Walker Bents, BBE senior. First team. 3.79 GPA. Won Class A state championship at 132 pounds.
Coy Gunderson, KMS senior. First team. 3.79 GPA. Placed third in Class A at 160 pounds.
Jaxon Behm, ACGC senior. Second team. 3.474 GPA. Placed third in Class A at 220 pounds.
Cole Holien, ACGC senior. Third team. 3.341 GPA. Placed fifth in Class A at 132 pounds.
Brady Holien. ACGC senior. Honorable mention. State entrant at Class A at 145 pounds.
Blaine Fischer. BBE senior. Honorable mention. Placed fifth in Class A at 152 pounds.
Dain Mortenson, Dawson-Boyd/Lac qui Parle Valley/Montevideo senior. Honorable mention. 3.206 GPA. Placed sixth in Class AA at 152 pounds.