Willmar residents can help city plow drivers this winter by keeping streets free of obstacles
There are several ways residents of Willmar can help the city's Public Works crew this winter when the snow flies. This includes removing cars from streets, keeping garbage cans off the roads and not blowing snow into the streets.
WILLMAR — The sudden arrival of winter a few weeks ago caught most people a little off guard, including Willmar Public Works. Crews rushed to install the plows and wings on the department's fleet of big trucks, just in case they were needed to clear out the unseasonable snowfall.
"We had to quickly go after that," said Gary Manzer, Willmar Public Works supervisor.
But, now that the city has some snowfall under its belt, Public Works is reaching out to the public, asking for their assistance to make the winter season a little less challenging.
Willmar has approximately 135 miles of city streets and it is Public Works' job to clear the snow. Plows usually start moving by 5 a.m. following a storm and it can take approximately six hours for the plows to move through the nine plow routes once.
"We'll start earlier than that if we can," Manzer said. Plows will also keep main transportation arteries, such as First Street, Willmar Avenue and Litchfield Avenue, as open as possible during storms.
Some city streets are rather narrow and can be made even smaller if cars and garbage cans are left on the street. The number one thing residents can do to help the plow drivers is to remove potential obstacles.
Manzer said no matter the season, garbage and recycling cans should not be put in the street. He said he places his containers on the grass in the boulevard area of his yard and in the winter he clears a place in his yard for those cans.
Following most snowstorms, moving cars off the street is a voluntary, but helpful, action. However, starting late last winter the city called its first city-wide snow emergency, which required all cars off city streets until the streets had been plowed curb to curb. Manzer said the emergency was a success, with most vehicles removed before plows came through.
"I had many more positive comments than negative comments," Manzer said.
The plan is to again announce a city-wide snow emergency when the weather calls for it.
"We would look at doing that for a more significant snowfall," Manzer said.
Public Works would call the emergency at least eight hours before cars would need to be removed, to give residents a chance to comply.
"It is another tool in our arsenal," Manzer said
The downtown central business district snow emergencies will still be called as normal. Manzer said those give crews a chance to clean out the piles of snow left by the plows on downtown streets.
"Nothing in the downtown area will change" this year, Manzer said, adding that the city-wide emergencies would include the downtown area as well.
Residents can also help keep roads safe and passable this winter by not adding snow on them. When shoveling or blowing snow from sidewalks and driveways, people should not throw the snow into the street. Doing so will eventually cause the creation of ice on the roads, which can be difficult for plows to remove.
"Don't dispose of your snow on the street. There is a city ordinance" against it, Manzer said.
As long as residents do their part to help the public works crews this winter, the roads in Willmar will be as safe and snow free as possible.
"Be patient. Stay home if you can" following a storm, Manzer said.
Manzer said his crew are the "best-of-the-best" and the city is in a good place because of them.
"We have a great staff here, Willmar is very fortunate," Manzer said.
Kandiyohi County ready for the snow as well
The crews at Kandiyohi County Public Works are also ready for winter weather. Todd Miller, county maintenance supervisor, updated the County Board of Commissioners on snow preparedness at the Nov. 10 road and bridge meeting, hours before the second storm of the season.
"We do 640 miles (of plowing), 150 miles of township," Miller said, adding each plow route is approximately 30 to 40 miles.
The county has piles of salt to use as well, having purchased 4,000 tons of a salt/sand mixture and another 200 tons of just salt.
"Our salt shed is full," Miller said.
Miller said the county plow drivers will be ready when called.
"Everything is ready to go," Miller said.
1
/
2:
A Willmar Public Works plow truck heads east on Trott Avenue in February 2019 during a snowstorm. Erica Dischino file photo / West Central Tribune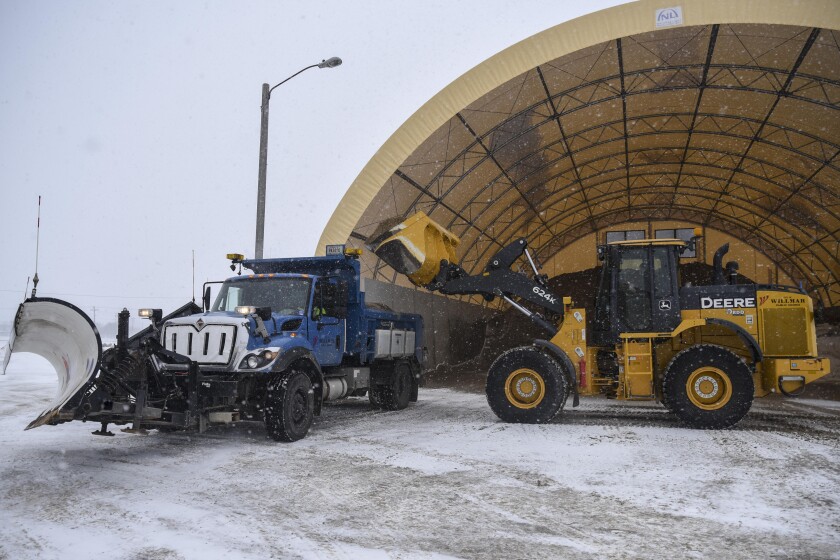 2
/
2:
A Willmar city plow fills up with sand in preparation for an oncoming storm January 2020 at the Willmar Public Works facility in Willmar. Erica Dischino file photo / West Central Tribune